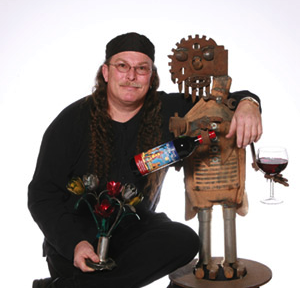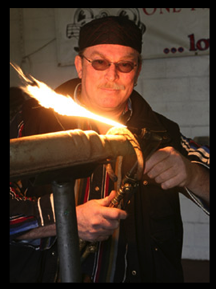 Mike Hammond is a Walla Walla resident, musician, business owner, and promoter who grew up in the small Idaho town of Culdesac. After purchasing Melody Muffler and moving to Walla Walla, Mike's interest in automobiles led him to become a successful stock car racer.
Music was Mike's first artistic passion as an adult. His earliest music-related project was in the production of an album by Chris Anderson's band Fat Dogs Bark and two by the blues-rock band Iguana Hat. These were recorded and produced in Mike's B Street Studio. Mike is also a prolific musician himself, and has played in several bands over the years including Iguana Hat.
The subjects of Mike's art range from whimsical garden pieces whose subject matter is obvious to those which are more dramatic and abstract. Mike's work appeals to people of all ages. Some of Mike's greatest rewards are the smiles and the looks of awe from people checking out his creations for the first time. One of his most popular pieces is the "Art Car", a visual feast on wheels with a mind-boggling paint job, which he enjoys driving around town for the entertainment of all. On most days Mike can be found helping his son Tyson, the new manager at Melody Muffler. Mike is active in supporting community events, and charitable organizations.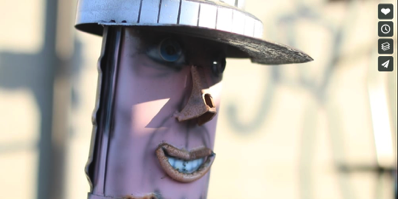 Click the above photo to see the interview of Mike Hammond by the Whitman Wire